News
Creating a competitive advantage through sustainability
Climate change (defined as a change in global or regional climate patterns attributed largely to the increased levels of atmospheric carbon dioxide produced by the use of fossil fuels) is a topic that has rapidly grown in importance over the last 10 years. Many global leaders have now made commitments to reduce their carbon emissions, with China pledging to peak its emissions by 2030 and achieve carbon neutrality by 2060. In order to achieve this the government, businesses and consumers will all need to take action to reduce the carbon footprint of China.
In order to better understand what the current attitudes and behaviours of Chinese consumers are surrounding climate change, and how they are changing, Kantar Worldpanel has conducted a survey amongst their panelists for the last 3 years.
According to the results of Kantar Worldpanel's latest 'Who Cares, Who Does?' (WCWD) survey the top 2 environmental concerns for people in National Urban China are Water Pollution Water Pollution and Food Safety with around half of people selecting these in their top 3.
This is similar to the results we saw in 2020 but in 2021 concerns around Air Pollution has risen to 3rd place, most likely due to the impact of the East Asia Sandstorm in March last year. Concerns around the use of plastics was still important with, with 36% of households including this in their top 3 concerns. About one third of shoppers included Climate Change in their top 3 concerns, which is a significant increase compared to 2019, and we will likely see this concern continue to increase in importance in the future as this topic continues to get more news coverage and businesses start taking more actions.
The level of concern people have for climate change and whether they are willing to change their behaviour to reduce their carbon footprint differs from one person to the next.
To better understand these differences, Kantar Worldpanel classified consumers into different groups based on their response to the WCWD survey. We found that they are 4 distinct groups of shoppers in China ranging from those who care the most about climate change, labelled as 'The Green Advocates' to those who have a very low level of concern, called 'The Sceptics'.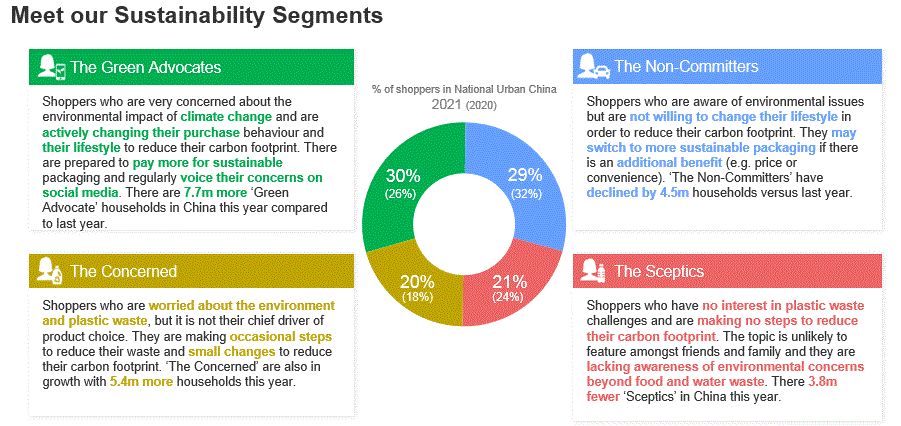 Source: Kantar Worldpanel, "Who Cares, Who Does?" China 2021
The Green Advocates are now the largest group of people in China representing 30% of the population of national urban China, an increase of 4ppts versus 2020. This shows that more and more people are worried about the environment and are actually changing their behaviour to reduce their carbon footprint. 96% of Green Advocates agree to buy products which are packaged in an environmentally friendly way and 81% which use their own bag when they go shopping for grocery products.
The next segment is 'The Concerned' who are people that do have concerns about environmental issues but this is not their main driver of product choice. However, they are making some small steps in their daily life to reduce their environmental impact. For example, 55% of people in this segment will use refillable bottles in order to reduce their plastic waste.
It is likely that this group will become more concerned in the future and will be more willing to choose sustainable products, especially if they do not compromise on quality or are not more expensive compared to products they have previously purchased.
Source: Kantar Worldpanel, "Who Cares, Who Does?" China 2021
'The Non-Committers' are people who are aware of climate change and environmental issues but they are not too concerned and are not yet willing to change their shopping or lifestyle behaviour. For example, less than half of this group will use their own bag when shopping and would only be prepared to switch to more sustainable packing if there was an additional benefit, such as price or convenience. This group has reduced in size as previous Non-Committers changed their level of concern and behaviour, moving them into The Concerned segment.
People who have the lowest level of awareness and interest in environmental issues are 'The Sceptics'. This group represents 21% of the population and has decreased in size over the last year. Sceptics show no interest in plastic waste challenges and are not making any steps to reduce their carbon footprint. Only 12% will use refillable bottles and less than half agree to buy products packaged in an environmentally friendly way.
It is likely this group will continue to decrease in size as climate change issues continue to gain more media attention and as the government implements more sustainable programs (such as sorting refuse) which impacts their daily lives.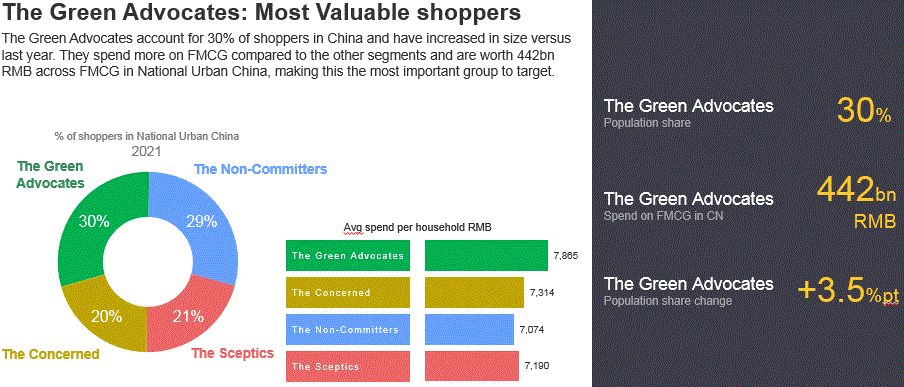 Source: Kantar Worldpanel, "Who Cares, Who Does?" China 2021
The Green Advocates spend 7,856 RMB a year on FMCG products which is significantly more than the other group and, given the size and growth we are seeing, this is a very important group of shoppers for manufacturers and retailers to target. We have seen a significant increase in the numbers of sustainability programs and products over the last year which are not only aimed at reducing carbon footprints but also helping to deliver growth to manufacturers and retailers by appealing to sustainable shoppers.
For example, last year Unilever and Alibaba Group teamed up to encourage recycling and sustainability. One of their joint initiatives is to install 1,000 AI-enabled plastic recycling machines at universities across China which can sort different types of plastic in order to accelerate the recycling process. Also, during the D11 shopping festival, Alibaba introduced a dedicated vertical for eco-friendly products, which resulted in 2.5 million consumers buying 500,000 low-impact products, and Unilever ensured that all of the packaging for it's eCommerce orders from in Cainiao warehouses were recyclable and plastic-free.
During 2022 we will continue to see environmental issues grow in importance as well as the number of consumers who are concerned and who are willing the change their behaviour.
Kantar Worldpanel is well placed to help you understand how sustainable shoppers behave and how to target them through linking their attitudes towards environmental issues with how they buy your category and brands.
For more information, please contact us.
Get in touch
市场部
Head of Expert Solutions China