News
When livestreaming becomes an essential tool in China
To draw the curtain of the big show of Double 11, both Weiya and Li Jiaqi kicked off this year's warmup with pre-sale livestreaming, creating record high number of viewers and transactions.
Actually, as early as Oct. 19th, JD.com also initiated its warmup campaign for 11.11 with livestreaming. It collaborated with Rock&Roast, one of Q3's most popular reality shows, to livestream a 3.5 season with JD's 11.11 selling points ingeniously imbedded into the talk show content.
DataSource: Kantar Worldpanel Media Survey K-C; n=7774; October 2020
Short video and social APPs have pulled out all the stops this year when it comes to livestreaming. It seems to have taken more courage NOT to be part of this national spree. One reason behind every stakeholder's confidence of hooking up with livestreaming is that livestreaming is more than just a fleeting buzz. The huge potential lies not just with the size of the audience but also the considerable amount of user time.
From a recent study conducted by Kantar Worldpanel China in the past 12 months, around a quarter of our surveyed respondents have watched livestreaming at least once a week. Fighting for consumers' share of eyeballs is as important for livestreaming platforms as it is for any digital publisher.
Our data collected till October also suggest that Douyin has leveled the playing field with Taobao, both enjoying over 80% of livestreamers. As 11.11 further rolls out, Taobao may have the edge over if livestreaming remains its major battlefield throughout the prolonged shopping season.
DataSource: Kantar Worldpanel Media Survey K-C; n=7774; October 2020
Unlike platforms, viewers' choices of livestreaming content is more fragmented. Besides the top two most often watched-life sharing (eg. Mukbang) and live commerce streaming, each selected by 53% and 51% of viewers, the list of hot shows that enjoy over 30% loyal followers also extent to music, talents, celebrities, teaching related and outdoor experiences.
The popularity of livestreaming has also enabled the platforms to promote positive energy which has been especially important in a year when many people have experienced challenges due to the global pandemic.
Diversified steams of content also suggest that livestreaming, with its flexibility of communication and high level of engagement can be quite efficient in building relationships with specific target audience. For example, The Fair (???), a We Media that successfully incubated several content IP, achieved 6.7 million sales with just one livestreaming show featuring Han clothing. The revenue might not be comparable with other KOLs, but considering its small size of only 10,000 followers, the result is still quite remarkable when we look at per capita spend, indicating how accurately targeted this stream of content has been created and distributed.
If we further drill down live commerce streaming to see what shoppers buy from these platforms, enthusiastic audience also have as diverse a catalogue of merchandise as they shop in traditional ecommerce platform. Not to mention even rockets and real estate had made their names on the menu.
Among our household panel, around half of surveyed livesteaming viewers have bought apparel when watching live commerce in the past 12 months, followed by home cleaning (44%) and personal care (40%).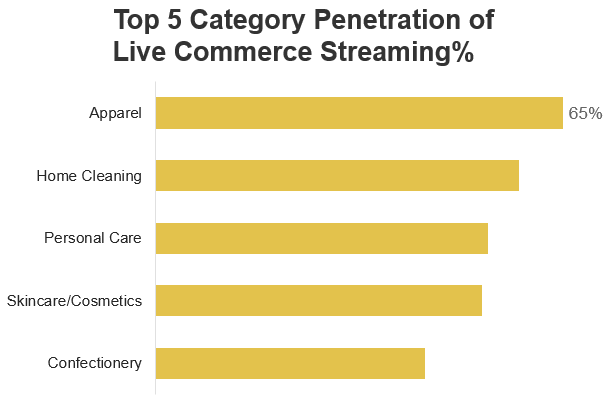 DataSource: Kantar Worldpanel Media Survey K-C; n=7774; October 2010
It seems that for the beauty master Li Jiaqi to beat omni-sellable Weiya, apparel and home care products are to be added to his shelves.
But shopping carts of different households can vary a lot. Life essentials of different stages as well as diverse inspirational needs both contributed to their heterogenous preferences.
Young Single & Couple bought more confectionery, beverage, luxury and beauty products. For manufacturers who have concern that livestreaming equals discount equals diminishing the brand image, it's an important reminder that there are such shopper groups who don't just go after discount on live commerce streaming but also seek indulgence.
It's also interesting to look at shoppers' other purchases outside livesteaming. Would live commerce streaming bring up or down shoppers purchase elsewhere? Our data found that actually those heavy live streaming viewers (watching livestreaming at least more than six times a week) spend more from omni-channel, especially on products that helps bring up quality of life like dog food, makeup, fragrance, tampon and peanut butter, etc.
Kantar Worldpanel can help you to understand livestreaming viewers profiles, their shopping behaviour and how they shop across different channels, in order to support your brand strategy and help you gain a bonus when entering livestreaming rooms.
Get in touch
市场部
Managing Director, Great China